Hello Hello Crafty friends. Sorry I havent posted in a while. Have been away traveling North to PA to see family for Easter break then traveled West to a lovely family wedding in Santa Barbara, California. I had forgotten how gorgeous that side of the country is, especially along the beautiful Pacific Coast. While there, we did a little more exploring of Malibu, Los Angeles and Hollywood ... amazing, amazing!! Loved it all! Wont wait so long to go back next time! :)
The first Sweet Stampin' challenge for May is today, and the theme is: Fairies. Too fun!
This is my take using clear Studio G stamps:
CARD RECIPE
Stamps: Studio G Fairies clear stamps. From year 2009, series 28, # VC0005.
INKS: Copics, Studio G Pigment Inks (for sponging edges)
PAPERS; White heavyweight CS
Accessories: Spellbinders Shapeabilities, Asian Accents Dies, Martha Stewart All over the Page Daisy Punch, MS Butterfly Punch, Stampin' Up! Border Punch, Darice Flourish Butterfly EF, Yellow and White stickles glitter glues, Ultrafine white glitter. Adhesive Rhinestone flourishes
Techniques: Dry Embossing, Paper Tole (fairy and flower), Sponging
There is loads of inspiration at Sweet Stampin', check 'em out HERE.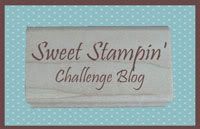 Sponsor this week is the wonderful Crafty Devils giving one lucky winner £15 voucher!!!
And lastly, don t forgot to enter into the current Challenge over at HMFMC.
The HMFMC Challenge ends today at Midnight and the theme is "Pop-It Up". There are amazing prizes and BLOG CANDY, so be sure to play for your chance to win!!!
Thanks for stopping by my little corner today. I sure hope to have inspired you! :)